NEWS
Alpharetta Library Volunteer Awards and Book Sale
View the 2008 May 21 Alpharetta and Roswell Revue and News article by Hatcher Hurd here.
Alpharetta Library Volunteers Honored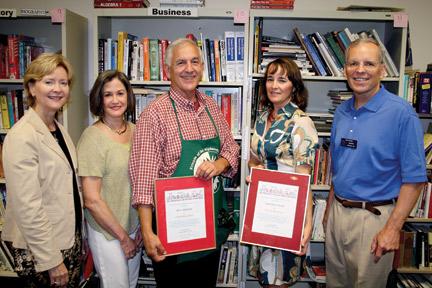 Alpharetta Library volunteers Ben Statham and Kathleen Smith are honored for their many hours of service to the library. Presenting them plaques of thanks are from left, Debra Ewing representing Commissioner Lynne Riley, library board member Stephanie Moody, Statham, Smith, and state Sen. Dan Moody. Picture from the Alpharetta and Roswell Revue and News.

Alpharetta Branch Library volunteer Ben Statham has been named the Atlanta-Fulton Public Library System's Volunteer of the Year for the ninth straight year. Some people say they ought to get a new category for the tireless Statham, or he should get a life. Seriously though, Statham, a charter member of the Friends of the Alpharetta Library, has been an incredible asset to the library for almost a decade.

Library Board of Trustees member Stephanie Moody said there are hundreds of volunteers who make an invaluable contribution to the library system, but she did note that Statham is volunteer's volunteer.

"Our volunteers contribute thousands of hours to our libraries and this equates directly into thousands of hours saved," Moody said.

Statham led all volunteers with 1,757 hours contributed to Alpharetta, almost equal a 40-hour work week over 52 weeks. Alpharetta Friends of the Library volunteer Kathleen Smith was also honored for the more than 800 hours she has given. She also has begun selling books online.

Some books priced at $2 or $3, once compared online to the same books have been found to be worth up to $300.

"It is all about matching up the right book to the right buyer. Online, you can do that," Smith said.

Smith moved here from East Cobb, where she had always been a "big reader."

"My daughter and I would come, but we wouldn't see a lot of children's books, so I wanted to work to work to get more here," she said.

The always laconic Statham said there are two good reasons he puts in so many hours at the library, mostly supervising the book sales each month that raise more than $40,000 annually.

"It's fun, and I don't play golf," he said.

Statham's wife Linda, also a Friends of the Library volunteer, says she doesn't mind her husband putting in so many hours as long as he doesn't bring books home for storage.

Ben Statham likes the monthly sales the first Saturday of each month at the Alpharetta branch, but he allows the online are bringing in more money. Amazon.com and half.com are two of the sites they post books to.

"The local sales serve the community, and the online sales raise more money. Either way, we are helping the library," he said.